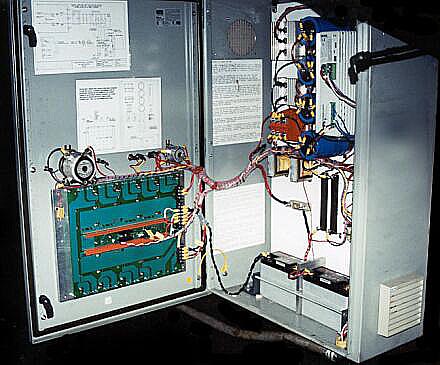 Features
1350 Watts of power at 288V DC available in 30 second intervals; enough time to bring a crane to a halt in a controlled manner.
Up to 10 successive power failures can be handled safely with no recharge interval.
Three-phase variable frequency power inverter for proportional control of a thruster-applied electric brake.
On-board 8-bit microcontroller for maintaining batteries and switching 250V power as required.
Twin 13 Amp·Hour batteries supply 24V DC input power.
Digital temperature sensor monitors battery temperature. This is necessary as the customer's operating environment has temperature variations from 20°C to 60°C. The charging voltage of lead-acid batteries is temperature dependent, and without careful charge control, battery life can be dramatically shortened.
Status indicators to the operator (remote location) provide information as to the state of the batteries and the charging system.
Surge suppressors protect all delicate circuitry. This unit can withstand surges in excess of 10 times the supply voltage. Surges are a common occurrence due to the presence of inductive loads such as electromagnets and hoist motors.
Description
The DC UPS is designed to run in a DC-only environment. The operating voltage is 250V DC. Power is quite dirty, subject to large spikes, continuous surges & sags. AC power is not available.
Inquiries
This product is sold by Johnson Industries, Ltd. General inquiries regarding purchasing can be directed to Johnson Industries, Industrial Brake Division
Inquiries regarding designing and programming with microcontrollers and motor control in general can be directed to J-Tech Engineering. Please see the company info page for contact information.