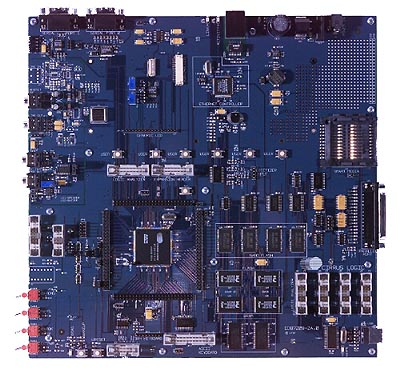 Features
Cirrus Logic EP7209 Processor running at 74MHz. The processor can run in multiple clock modes, and can be changed dynamically (18 and 36MHz clock modes are supported).
16MBytes of Flash memory, mapped as 32-bit words.
32MBytes of NAND flash memory, port mapped.
SmartMedia interface connector, for expanding NAND flash size. This interface conforms to the SSFDC standard.
EPP Parallel port
Two RS-232 Serial ports, one of which has user selectable IrDA support.
USB 12Mbit/sec port (compliant with USB Standard V1.1).
Ethernet (10BaseT) CL-CS8900A.
LCD module sites for supporting several standard LCDs.
Processor pin connections are broken out to surrounding headers for easy connection to logic analyser.
Processor pin connections form a daughter module site for future processor development.
Full JTAG emulation support.
Keyboard interfaces for several different types of keyboard.
16-bit stereo DAC support for high-fidelity audio playback.
User-selectable voice-quality codec with microphone input and amplified monaural speaker drive out.
Multiple event switches for development of manage power supplies.
Switching supplies for all required voltages.
Description
Design work for this board was performed in-house and board layout was performed by the customer.
When fitted with a PS7211 (aka EP7211) processor, the platform is a development platform for Personal Data Assistant (PDA), Palm Top, or Palm Pilot products where high speed, low power consumption and large amounts of memory are required. When fitted with an EP7209, the product is a development platform for MP3 players and other small hand-held multimedia appliances. The key differences between the two processors are the DRAM interface and the 16-bit stereo codec interface. The EP7211 has DRAM support but no stereo sound support, whereas the the EP7209 has 16-bit stereo sound support but no DRAM interface. When using an EP7209, the user is limited to the internal 38.4KBytes of RAM for code and data space. This is not to say that code could optionally run out of the potentially large amount of flash connected to this device.
Inquiries
This product is sold as a component of a development kit by Cirrus Logic. General inquiries regarding purchasing this product can be directed to Cirrus at Cirrus Logic Embedded Products
Inquiries regarding designing and programming with this or any embedded ARM-based processor can be directed to J-Tech Engineering. Please see the company info page for contact information.