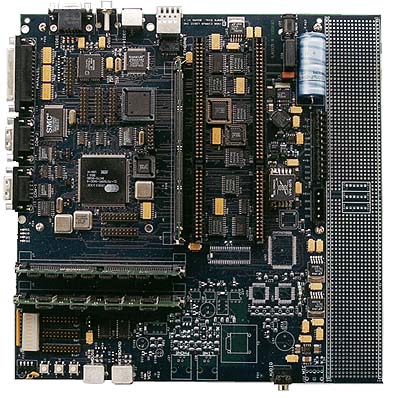 Features
CL-PS7500FE Processor with Advanced RISC Machines (ARM) ARM7 core running at 56MHz.
Two 72-PIN SIMMs for Fast Page Mode or EDO DRAM, capable of supporting up to 64MBytes per socket.
User selectable boot-ROM capable of initializing COM1 for download of data.
FLASH: Flash SIMM up to 16MBytes in size, configured as 32-bit words.
Keyboard Interface – PS2.
Mouse Interface – PS2.
Serial Ports (two) (NS16C550 compatible).
IrDA compliant serial port (NS16C550 back-end) (shared with COM2).
Parallel Port.
Ethernet (10BaseT), CL-CS8900 from Crystal Semiconductor.
VGA/NTSC/S-VIDEO (Chrontel CH7003).
LCD module site for supporting custom LCDs.
ISA type slot connectors (two).
Stereo Headset port (CS4333).
Microphone port.
User controllable 8-LED bar for OS porting/debugging.
Description
With its large DRAM and flash storage capacity, this design is ideal for developing a wide variety of inexpensive internet appliances. The ability of the on-board boot ROM to be switched out via hardware jumpers makes it possible to boot from the Flash SIMM socket. The advantage to software developers is that a ROM emulator can be plugged into the 80-Pin SIMM socket, enabling product development.
The existing ISA interface slots makes possible the addition of plug-in MODEM cards as needed for internet support. If telephony based internet support is too slow, the presence of an on-board 10BaseT ethernet interface can be used to implement high-speed interfacing. With the addition of an ISA based 10BaseT ethernet card, this unit would make a potentially handy internet firewall for home use. Connecting an ADSL modem to the existing ethernet connector would enable immediate development of a set-top box for home television viewing.
One of the most useful features of the unit is the Chrontel CH7003 NTSC video interface. This interface chip is used to produce both composite and svideo outputs for display on standard North American Television sets. There is no RF modulator on the unit, so display is limited to television sets equipped with composite or S-Video inputs, as well as dedicated NTSC monitors. Whereas existing products are known to use the CH7001 video interface IC, this product is considerably simpler and produces a better picture due to the fact that the NTSC display is generated directly from the video data rather than being adapted from analogue VGA output to NTSC.
Inquiries
This product is sold as a component of a development kit by Cirrus Logic. General inquiries regarding purchasing can be directed to Cirrus at Cirrus Logic Embedded Products
Inquiries regarding designing with and programming of ARM-core processors can be directed to J-Tech Engineering. Please see the company info page for contact information.